How to Find Us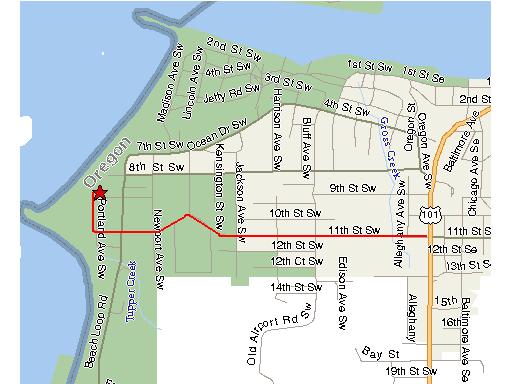 Seaview Townhouse is conveniently located just west of US 101 as it travels through the city of Bandon. If traveling by auto on Interstate 5, we are about 2 hours west of the I-5 corridor, easily accessed from either the Roseburg or Eugene/Cottage Grove areas. Please ask for driving directions if you are uncertain of the best routing.
Scheduled United Airlines/Sky West service is available from San Francisco (year-round) and Denver (summers) to the nearby Southwest Oregon Regional Airport (OTH) in North Bend, about 30 minutes driving distance. Local car rental, taxi and limousine service is available. Major air carriers provide regular service to Eugene (2½ hour drive), Medford (3½ hour drive), and Portland (4½ hour drive).
Upon arriving in Bandon, you will find us one-half block west of scenic Beach Loop Drive between Beach Loop Drive and Portland Avenue SW, on 9th Street, just east of the Offshore Islands Wildlife Viewing Area that runs along Coquille Point. Seaview Townhouse is the east (right) unit of Coquille Point Condominiums as you view the condos from 9th Street.
Links to Other Web Sites of Interest
Oregon Islands National Wildlife Refuge
Shoreline Education for Awareness (SEA)
Oregon Dunes National Recreation Area
Wavecrest Discoveries - the nature of Southern Oregon
South Slough Estuarine Reserve